The Ultimate Highlights
It's all about you and your private crew on this exclusive tour.
Set your own pace and explore at your leisure.
Hang out with our fantastic local guide.
Take a scenic stroll through the breathtaking native New Zealand forest.
Feel the rush as you wade through freshwater streams and conquer boulders.
Explore unspoiled limestone caves with amazing rock formations.
Get mesmerised by the enchanting glow worm displays.
Don't forget your trusty camera to capture those epic moments.
Brace yourself for amazement!
About the Down to Earth Private Tour
Wondering what this private adventure is all about? Well, the best way to get the lowdown is by checking out the quick two-minute video at the bottom of this page.
On our Private Down to Earth glow worm tour, our expert local guides will be your exclusive escorts through the stunning native New Zealand forest and into unspoiled caves right here in Waitomo. Our Private Tours are pretty much like our standard Off the Beaten Track tour, but it's just your party and our awesome guide.
We keep things relaxed, so you can take it all in, explore, and savor every moment. You'll experience the caves just as nature intended—no handrails, no electric lights, no concrete paths. Be prepared for some climbing over boulders, tackling hills, and wading through streams, so having a moderate level of fitness is key.
Plan for a 3-hour adventure, with roughly 2 hours spent inside the cave system.
Your group can be as small as two or as big as eight.
Minimum age: 10 years. Children under 16 need a parent or guardian along for the ride.
Check out our Cancellation Policy for the nitty-gritty.
Please note, this tour isn't suited for the elderly or anyone with mobility hiccups. It's all about climbing, hill-hiking, and stream-wading, so a reasonable level of fitness is required.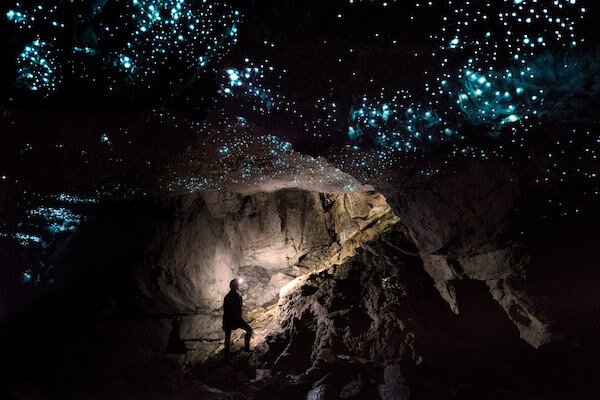 What We Provide
We've got all your gear covered for this adventure—safety equipment, warm clothing, thermals, a fleece jumper, shorts, boots, socks, and a caving helmet. Plus, we offer shower facilities, hot drinks, and a snack once the tour wraps up.
Bring Your Camera – We're Selfie Approved!
Cameras are totally cool on our adventures, as long as they fit in your pocket because you'll need those hands free for the adventure. A small digital camera or your trusty phone does the trick. Plus, our guides snap awesome pics of you during the tour, and we'll email them to you afterward for free! If you're a serious shutterbug with some bigger equipment, consider one of our Photography Tours.
Getting Here
No wheels? No problem! Several companies offer transport to Down to Earth — Eco Tours from nearby spots in the Waitomo district. Check out our FIND US page for all the juicy details. Let's make this private adventure happen!