About the tour
The best way to find out what to expect on the tour is to take a look at the two minute video at the bottom of this web page.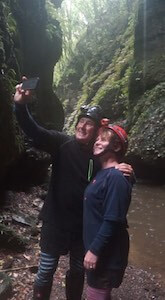 On a Glowing Adventure Glow Worm Eco-Tour our knowledgeable guides will escort you through beautiful native New Zealand forest and into untouched caves, here in the Waitomo district. We take small tours of no more than 8 people so have the ability to move slowly through the caves, to enjoy, explore, and take in the surroundings, including our mesmerising glow worm displays.
The caves are untouched. There are no handrails, electric lights, concrete paths, or other modifications, and the tour involves climbing over boulders, up hills and wading through streams. A moderate level of fitness is therefore required.
Allow 3 hours for the tour, of which approximately 2 hours is spent in the cave system.
We provide all the equipment and clothing you need for your adventure, including appropriate clothing, boots, socks, and caving helmet. So once the tour is over you can pop back into your clean clothes and leave us to deal with your dirty laundry!
We also offer shower facilities, hot drinks, and a snack, once the tour is over.
Cameras are welcome on our adventures, as long as they are not too large. A small digital camera is best, and some people even bring their phones to take photos. Our guides will also take photographs during the tour, and digital copies are provided to you at no charge. Keen photographers hoping to bring larger equipment to capture the scenery may wish to consider one of our photography tours.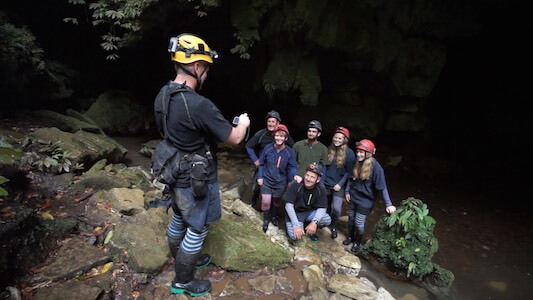 Maximum group size is eight, and minimum group size is two.
Minimum age is 12 years. Children under 16 must be accompanied by a parent or guardian.
Maximum size is 120kgs (265lbs).
Please note that this tour is not suitable for the elderly or anyone with mobility difficulties. It involves climbing over boulders, walking up hills and wading through streams with rocks underfoot, so a reasonable level of fitness is required.
There is no public transport access to Glowing Adventures, and we are not able to pick people up. You will need your own transport to get to us.