How to get to Glowing Adventures
Note: You will need your own car or transport to 1199 Oparure Road. We do not provide pick up/drop off services.
Where are we?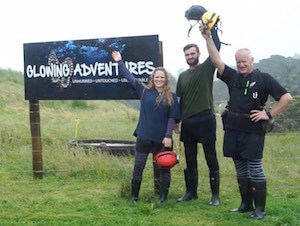 Your adventure can be found on Oparure Road in the Waitomo District, approximately 25 minutes drive from Waitomo Caves Village and 20 minutes from Te Kuiti. Note if you are coming from the North (e.g. from Otorohanga) that we are on Oparure Road, not Waitomo Caves Road. You will pass the intersection with Waitomo Caves Road (Highway 37) but don't take it — keep going straight and you will see Oparure Road a little further on.
If you plan to follow your GPS please read this!
If you're using a GPS (e.g. in a rental car or on your phone), and if you program in our official address (1199 Oparure Road, Waitomo District or Te Kuiti depending on your GPS system), it's very likely your GPS will take you past our gateway and our signs, and you'll end up about half a kilometer too far along Oparure Road. We don't know why, but most GPS's don't know where we are! So here's our advice for those using GPS, to avoid driving past:
If you are using Google Maps search for "Glowing Adventures", not "1199 Oparure Road". Google Maps knows where we are, and it will bring you right to the gate.
If not using Google Maps try programming your GPS for 1170 Oparure Road, Waitomo District or Te Kuiti. If your GPS lets you do that it will bring you right to the gate.
If neither of those options work for you program your GPS for 1199 Oparure Road, which is our official address. Be aware though that you will pass our gate about 0.5km before your GPS thinks you've arrived. There are signs, so when you see them you've arrived — don't trust your GPS too much!
Approximate travel times
25 minutes from Waitomo Caves Village
20 minutes from Te Kuiti
25 minutes from Otorohanga
1 hour from Hamilton
2 hours and 40 minutes from Central Auckland
2 hours and 30 minutes from Auckland Airport
2 hours from Taupo
2 hours from Rotorua
Directions
We are 12kms west on Oparure Road, from the turn off on State Highway 3. Once on Oparure Road keep driving and you'll see the Glowing Adventures sign. The road is sealed/asphalt all the way.
From Waitomo Caves Village

Follow Fullerton Road to the end, turn right onto Oparure Road, then follow Oparure Road until you find us. Driving time is approximately 25 minutes.

From North (via Otorohanga)

Head South on State Highway 3 from Ototohanga and stay on State Highway 3 (go straight on and don't turn right at the intersection with signposts pointing to Waitomo Caves) until you reach the signposts for Oparure. Turn right onto Oparure Road and follow it for 12km until you find us. Driving time is approximately 25 minutes from Otorohanga.

From South (via Te Kuiti)

Follow State Highway 3 North from Te Kuiti until you reach the signposts for Oparure. Turn left onto Oparure Road and follow it for 12km until you find us. Driving time is approximately 20 minutes from Te Kuiti