The staff here at Down to Earth are Kiwis born and bred.
We were lucky to grow up exploring this beautiful country we call home. We may be a little biased, but we think New Zealand is pretty choice.
Everyday we get asked by our guests for our top tips on where to eat, stay and explore.
We love sharing our local knowledge, so asked our staff to review some of their favourite spots that are within a 2-3 hour drive from Waitomo (we had to draw a line there or we'd go on and on all day!).
Waitomo District
Of course the beautiful Waitomo district is at the top of our recommendation list! Most of our staff grew up in the area which has a true beauty of its own. You'll see what we mean when you arrive.
The caves in Waitomo are one of New Zealand's most popular tourist attractions with glow worms galore.
Fun fact: there are over 300 mapped caves in the district. Most are beneath private land and are not open to the public.
Firstly we would suggest Down to Earth for an off the beaten track glowworm caving experience here in Waitomo. Funny that! Did we mention Down to Earth is currently rated the number one thing to do in the Waitomo District on TripAdvisor? Anyway enough about us, here are some other things we enjoy nearby.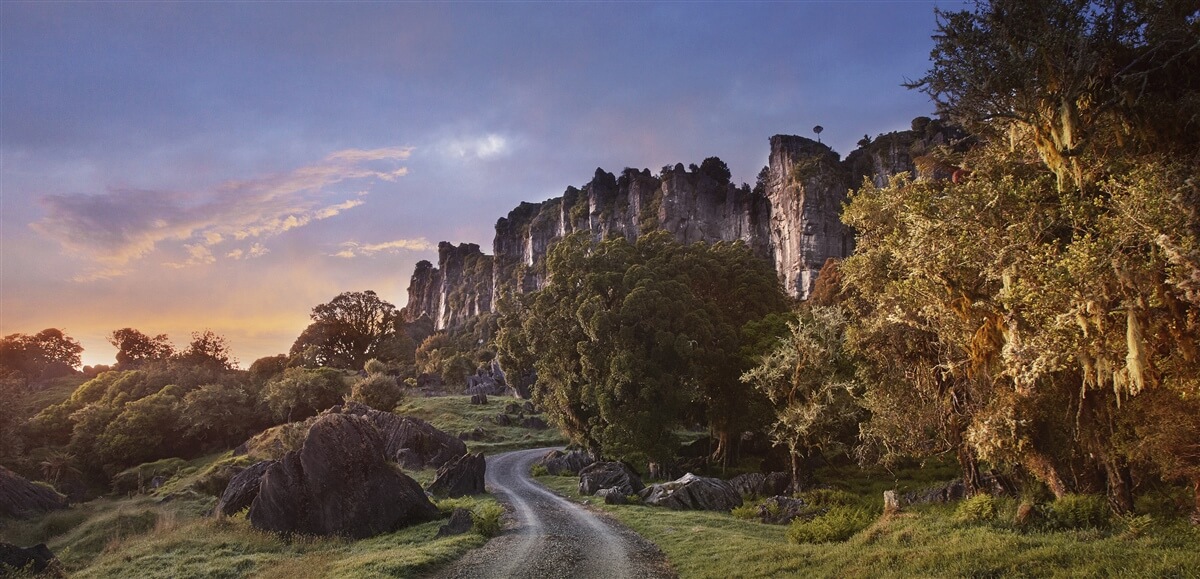 If you love all things Tolkien and getting off the beaten track, this small group tour is for you. You'll get to explore the Denize family farm where parts of The Hobbit: An Unexpected Journey were filmed!
Not long ago, the Down to Earth team took the afternoon off to experience the tour. It's a 40 minute drive from our caves, near Piopio. We were met by passionate host Suzie who shared the amazing story of when Sir Peter Jackson and his team visited their scenic fourth generation farm.
Hot Tip: While there, ask Suzie for directions to the beautiful Waitanguru Falls, only a few kms away.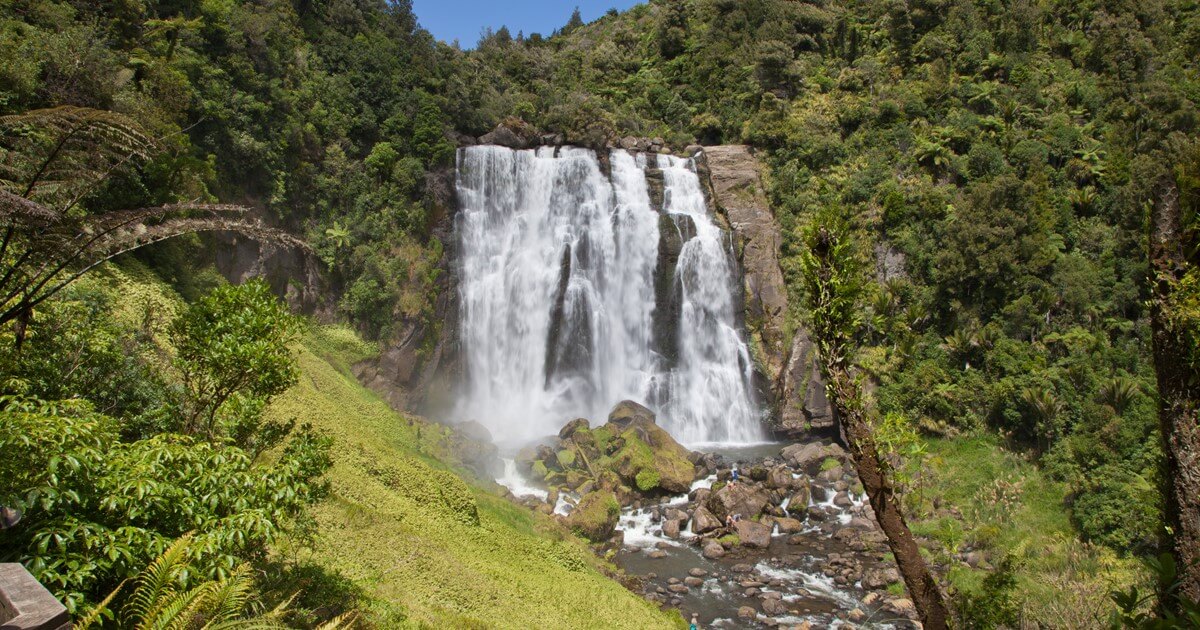 If you have time to spare to explore all Waitomo has to offer we'd recommend the Marokopa Falls, Mangapohue Natural Bridge, and Ruakuri Scenic Reserve. These 3 free attractions are clustered quite close together, the farthest being around 45 minutes drive from Down to Earth.
These activities aren't particularly strenuous and they're all well sign posted with nice easy walkways. Don't forget your camera as there is true natural beauty around every corner.
If you feel like a scenic drive, keep following the road out to the west coast. Visit the tiny beachside village of Marokopa, go fossil hunting at Kiritehere Beach, explore the Waikawau Tunnel and pop down to Mokau to try one of their famous whitebait fritters. These sleepy beach settlements are off the beaten track and a real taste of yesteryear. If you keep heading south you'll eventually bump into New Plymouth.
Hot Tip: The roads are windy so take your time driving. There's not much traffic and very limited petrol opportunities.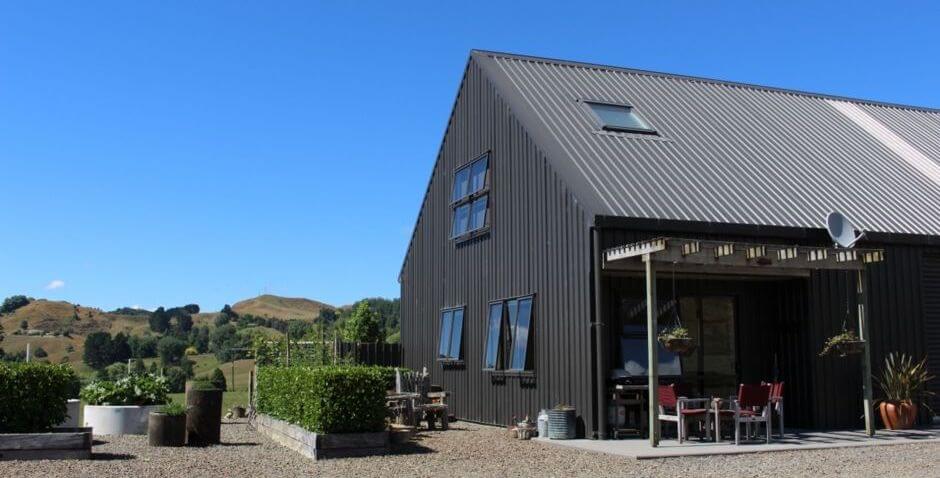 What an amazing spot! Karen and Phillip's beautiful architecturally designed home overlooks the Te Kuiti valley, with panoramic views. It's a true stunner.
Karen and Phillip recently joined us on a tour here at Down to Earth and they invited us to come and check out their home on Te Kumi Road, about 10 minutes drive from our office.
We didn't stay overnight because that would be weird when we live just around the corner! But we've heard great things from our customers and know you'll be well looked after by these lovely hosts.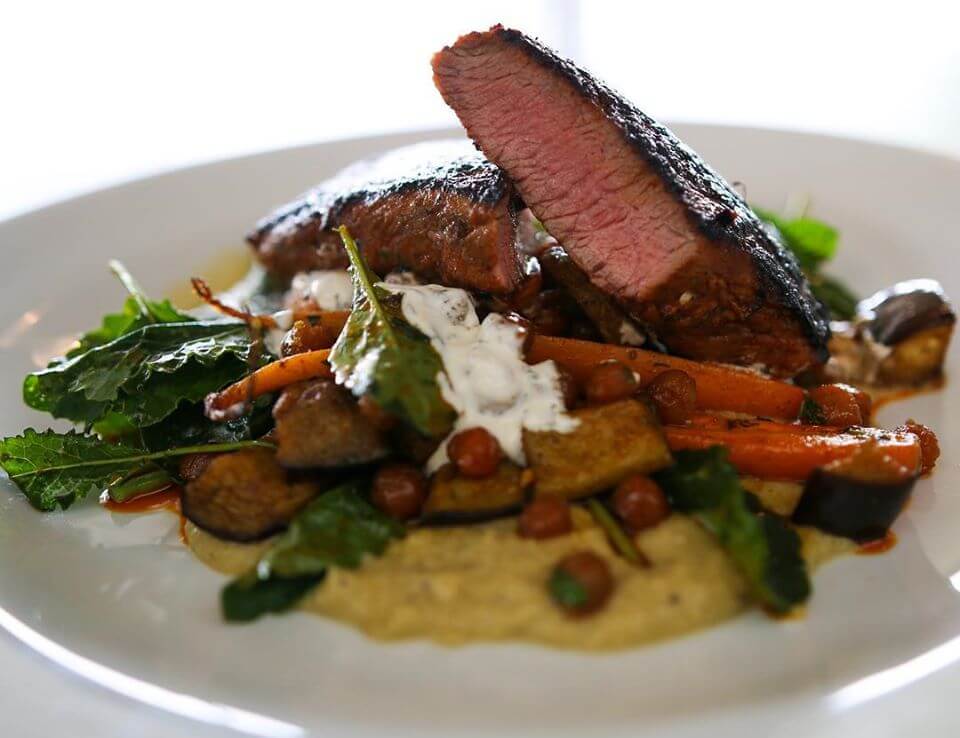 Our favourite place for a bite to eat in the Waitomo district hands down. Just yum … we're hungry thinking about it!
Huhu Cafe and Restaurant can be found on Waitomo Caves Road around 20 minutes drive from us at Down to Earth. It never disappoints! They source their ingredients locally and have a New Zealand inspired menu, along with local boutique beer and wine.
Hot Tip: If you can't decide from the menu, we can recommend the New Zealand sirloin or the lamb ….. So jealous right now!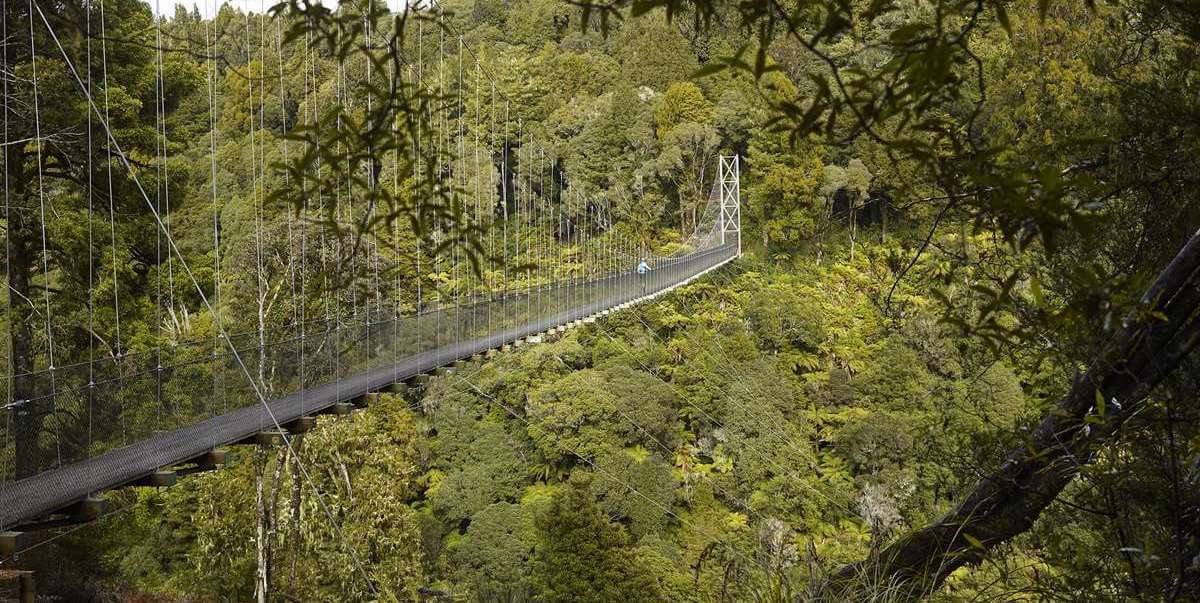 We love to take our family to Pureora Forest park to camp, swim in the river or just take time to explore one of the many beautiful forest walks.
Pureora is just over an hours drive from Down to Earth. When you arrive you'll see why we love to get off the beaten track and relax here with nature.
This usually quiet spot has a number of short walks, cycle trails and is a great place for a picnic. Our family loves to run across the longest and highest suspension bridge in New Zealand.
Hot Tip: Make sure you have a full tank of petrol, there is no petrol station in Pureora!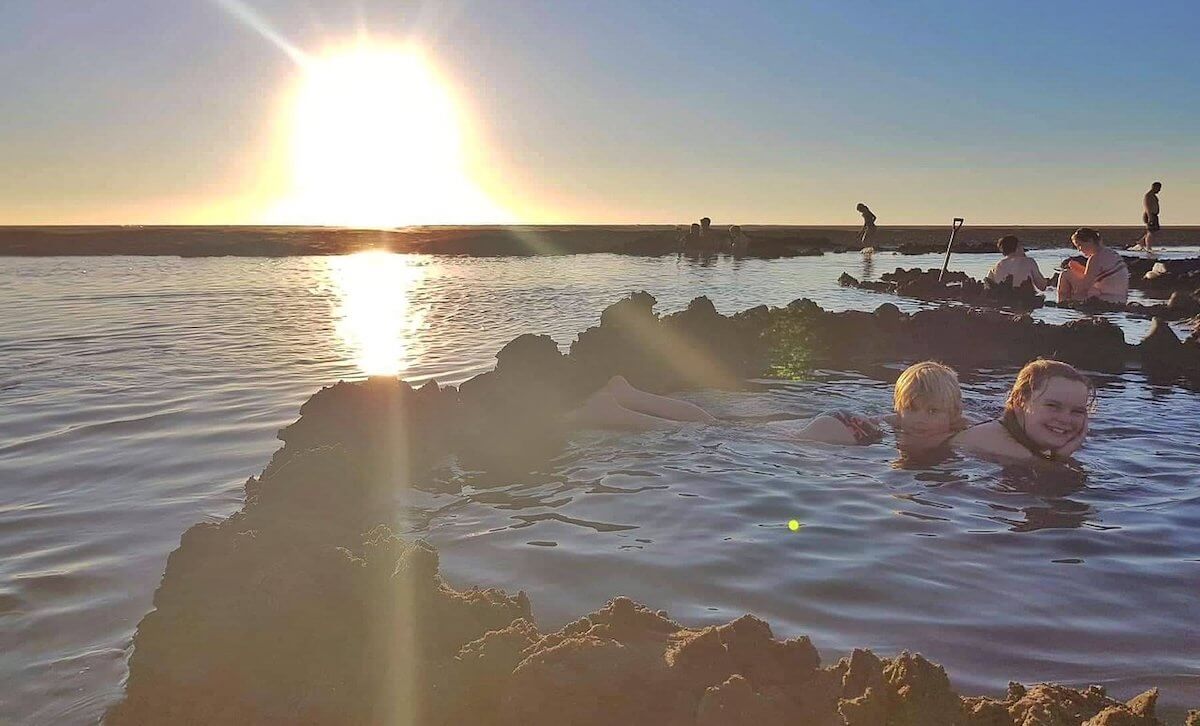 Kawhia beach is the nearest beach to us here at Down to Earth, just over an hour drive away. Kawhia is a quiet seaside settlement and we love it that way.
Drive out to Ocean Beach and take the short walk up and over the sand dunes to find a natural hot springs beach. Dig a hole in the sand two hours before or after low tide and the water will be deliciously warm - your own private hot pool! Just like up north at Hot Water beach in Coromandel … but minus all the people.
Hot tip: Go on a cooler day to really enjoy the lovely warm water, and get some yummy fish and chips at the Kawhia Fish Shop near the wharf.
Matamata
Matamata is a rural town, 1.5 hours drive from Down to Earth. Most famous these days as the location for the Hobbiton Movie Set Tours, it's also a great place to stop for a bite to eat and has some great accommodation options.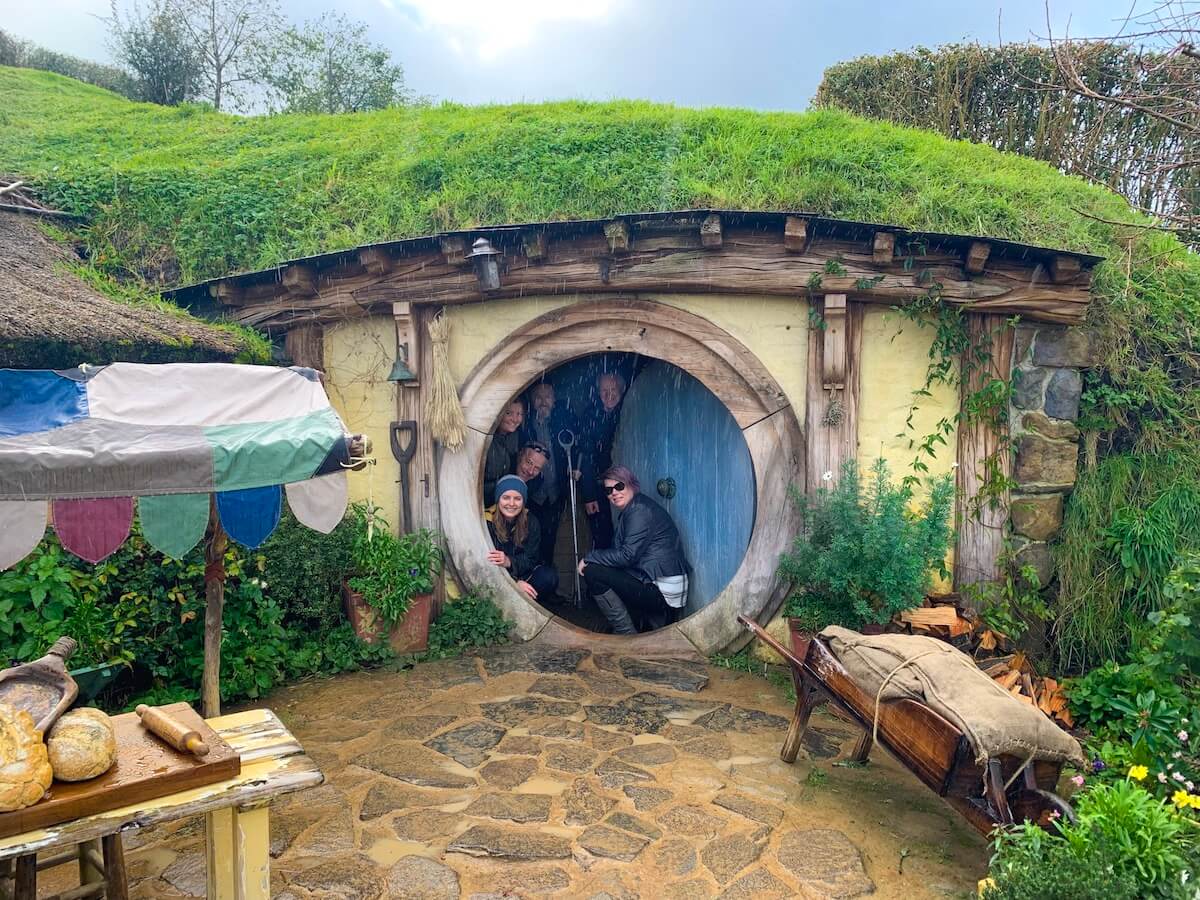 Most of our customers here at Down to Earth are either coming from, or going to this little ole place called Hobbiton. So the other day we thought we better go and check it out.
The Down to Earth staff (spot them in the Hobbit hole) got together and took the 1.5 hour drive to Matamata to find out what the fuss was all about.
It was a wintery, rainy day but the Hobbiton village was still a beautiful sight to see. The friendly staff gave us umbrellas and off we went. Absolutely picture perfect, with photo opportunities at every turn. The detail that goes into this place is spectacular. They show you around the set and explain how the movie magic was made. All of this helps you come to the conclusion that Peter Jackson is a bloody legend!
If you're after a Middle-earth experience then we would definitely recommend this super popular tour. We hadn't even seen any of the movies and we still thought it was great!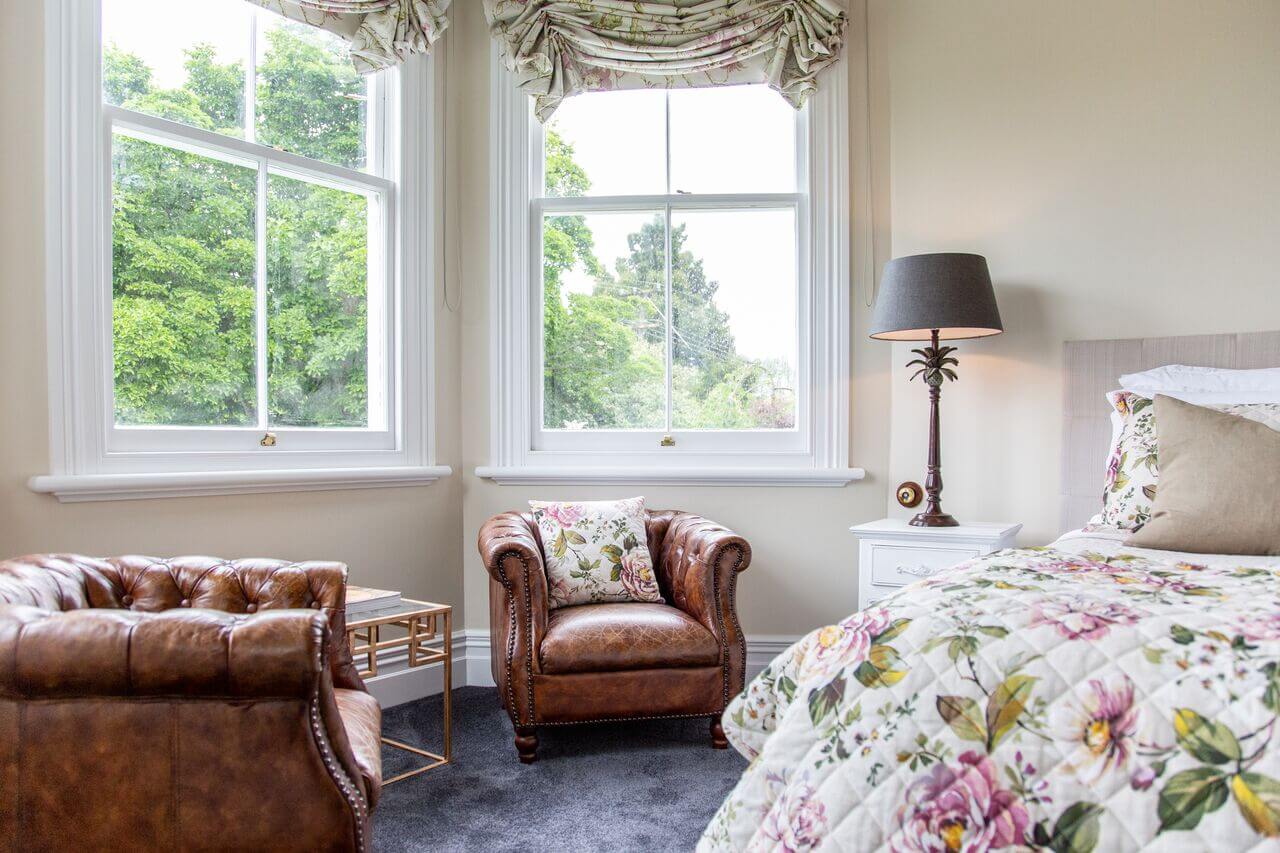 When we popped in for a visit owner Glenn was happy to show us around his beautiful restored Victorian villa on the outskirts of Matamata. So much work has gone into this amazing place and every detail has been considered.
The wrap around verandah looks out over the Kaimai ranges and local dairy farms. There's also a self contained cottage and outdoor bath available. It's all so gorgeous we didn't want to leave!
Hot Tip: If you're looking for boutique bed and breakfast accommodation, Villa Walton is our pick in the area. Glenn can help you book any local activities too.
Cambridge
An hour from Down to Earth, Cambridge is a friendly town with tree lined streets, boutique shopping and lots of excellent cafes and restaurants. Sample delicious local produce at the farmers market every Saturday morning, or visit lake Karapiro nearby for kayaking, fishing and jet boating. Here are some of our favourite spots.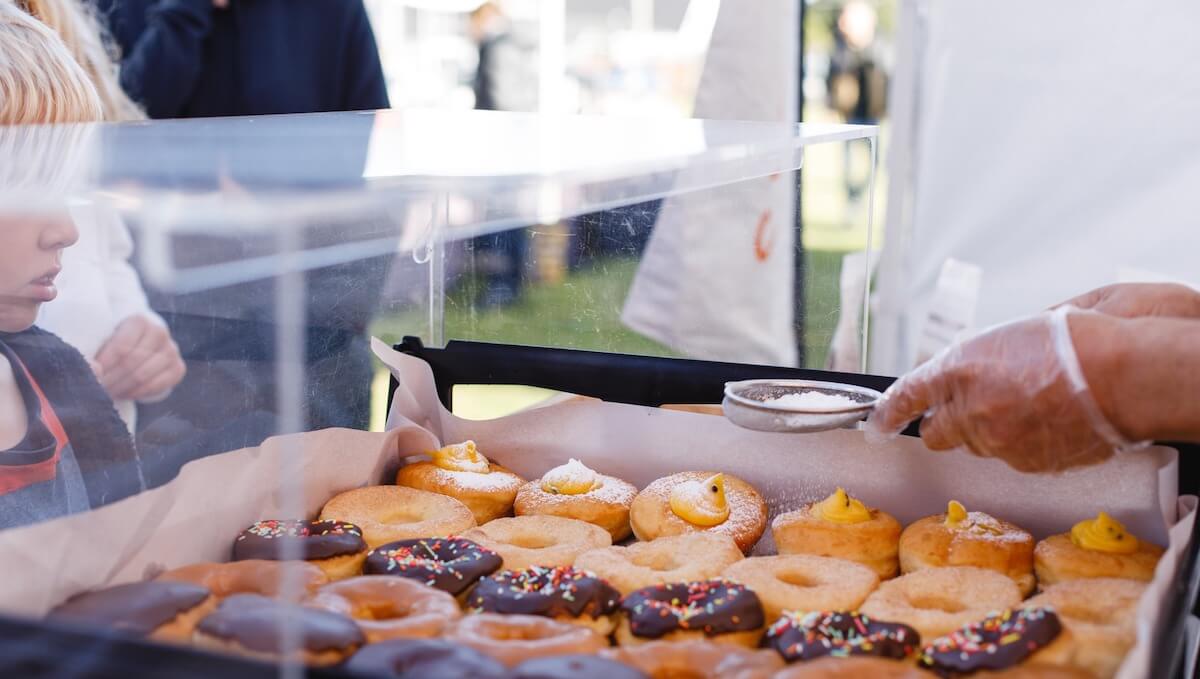 Our mum loves going to the Cambridge Farmers Market - you'll see her there almost every Saturday. It's open from 8am to 12pm in Victoria Square, in the heart of the town. Yummy fresh produce changes with the seasons, all sourced from local growers.
It's a great place to rub shoulders with some friendly locals, get your coffee fix and enjoy fresh vegetables and fruit, locally-made cheese, artisanal bread and gourmet treats. During the summer months there's usually live music too!
Top Tip/Warning: Kane's strawberries are so delicious they will ruin any other strawberry you taste in the future!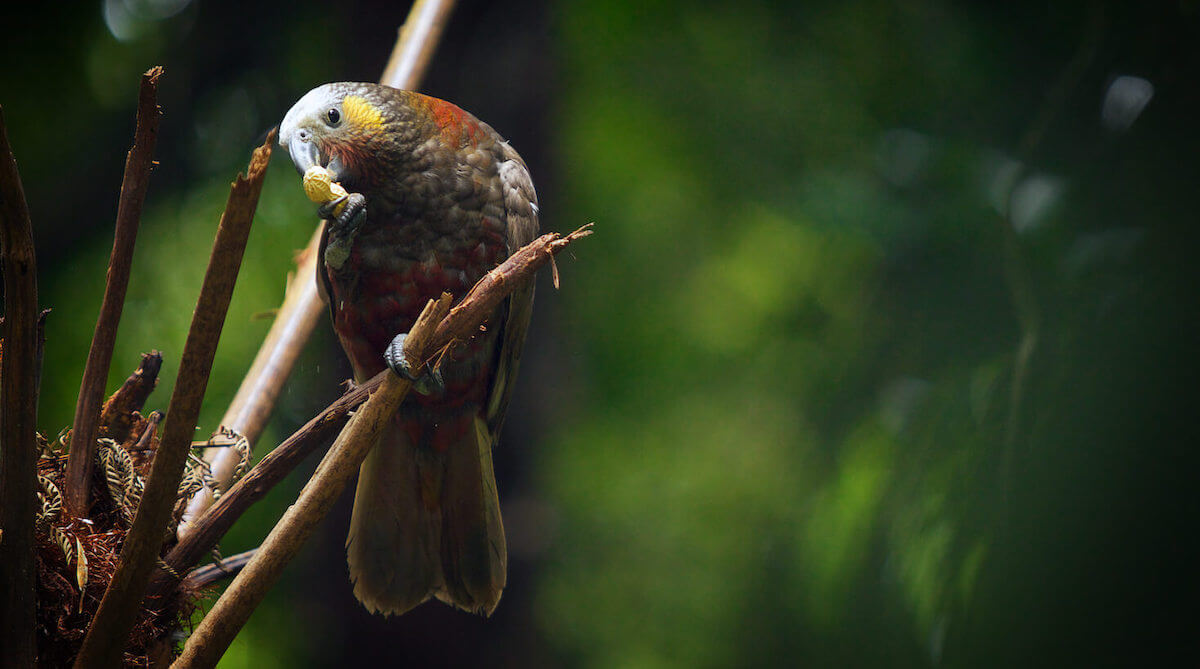 We love visiting this eco sanctuary about 30 minutes drive from Cambridge. We bring our kids here for picnics on the weekend. It's a great place for a family walk to reconnect with nature and get up close to many of New Zealand's native birds.
What's really special about this place is the entire mountain is surrounded by a predator free fence - one of the largest in the world. This means no possums, rats or weasels to disturb the native bush and wildlife! Once inside you can feel a real sense of times that have past. We just love it here and the amazing work they do to provide a safe haven for many of our most endangered species - from birds to bats, frogs to reptiles, tuatara to giant weta.
Hot Tip: Wear comfy walking shoes and take warm clothes as it can be cool in the forest. Grab an ice-cream in the visitor centre near the southern enclosure, Tari Road.

Joanne and her family will take great care of you at this off the beaten track luxury lodge. Nestled on 40 hectares of farmland above the shores of Lake Karapiro, the lodge is centrally located between Cambridge and Tirau - so it's a great base for visiting Hobbiton in Matamata, Down to Earth in Waitomo and Rotorua.
With beautiful views of the tranquil rural countryside, gourmet dining and farm tours available, you'll be right at home in boutique surrounds.
Rotorua
Two hours drive east of Down to Earth you'll find Rotorua, famous as a geothermal hotspot. Think bubbling hot pools, geysers and natural mineral springs. This popular town is also a great place to connect with Maori culture, from cultural performances to traditional food, arts and crafts.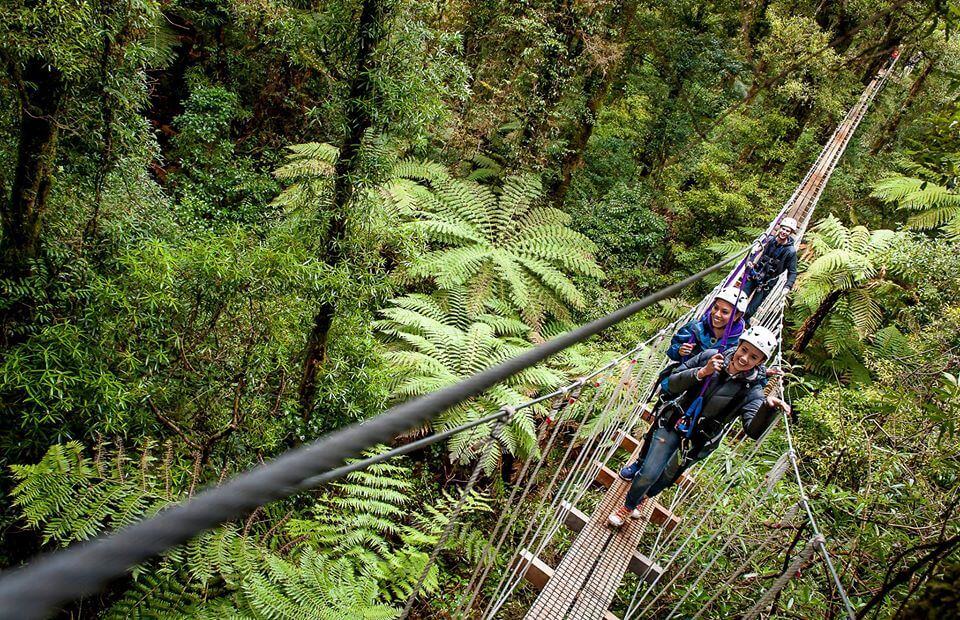 We love Rotorua Canopy tours so much some of us have even done it twice. Who wouldn't love ziplining through beautiful native bush combined with a few swing bridges with great guides?
This company means business when it comes to conservation. The enthusiastic guides share the stories about their reforestation projects, how they've captured thousands of pests and seen the return of many native birds. It's no wonder this company is currently rated as the number one thing to do in the Rotorua District.
Taupo
Just over 2 hours drive from Down to Earth, Taupo sits near the centre of the North Island. It is famous for its vast sparkling lake and stunning landscapes. A great base for snowsports in the winter or the Tongariro Alpine Crossing walk. Lake Taupo and the surrounding rivers also offer lots of amazing boating and fishing activities.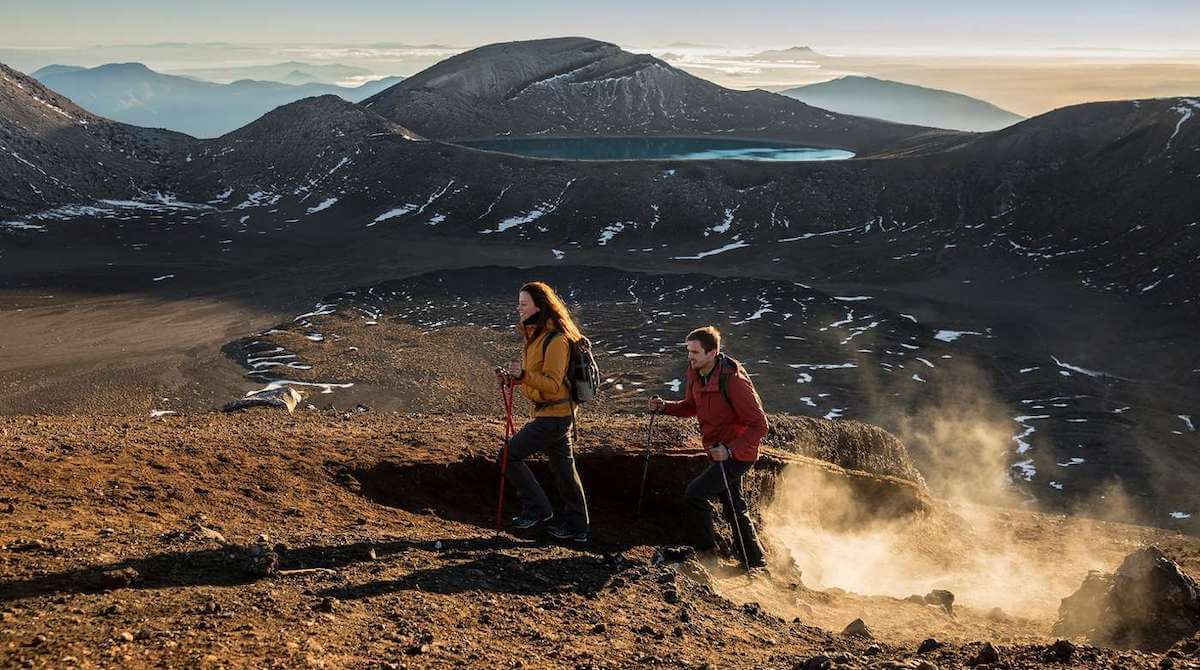 Only two of our staff members have done this popular 19.4km hike which is considered New Zealand's best one day hike. The rest of us really need to get out more!
A huge percentage of our guests are on their way to or from the Tongariro Crossing, and as long as the weather is playing ball we only hear great things about it. So if you feel like climbing an active volcano or visiting another Lord of the Rings film location this is the place for you.
Remember to always check the weather conditions and be sure to pack lots of water and appropriate clothing. The friendly folk at the Tongariro National Park Information Centre will be able to help out with any enquiries you may have.
Hot Tip: A lot of our guests come straight from doing the Tongariro Crossing and the majority of them are sunburnt, so don't forget the sunscreen and re-apply often throughout this 5-7 hour hike. The sun in New Zealand can be pretty full-on!
Hamilton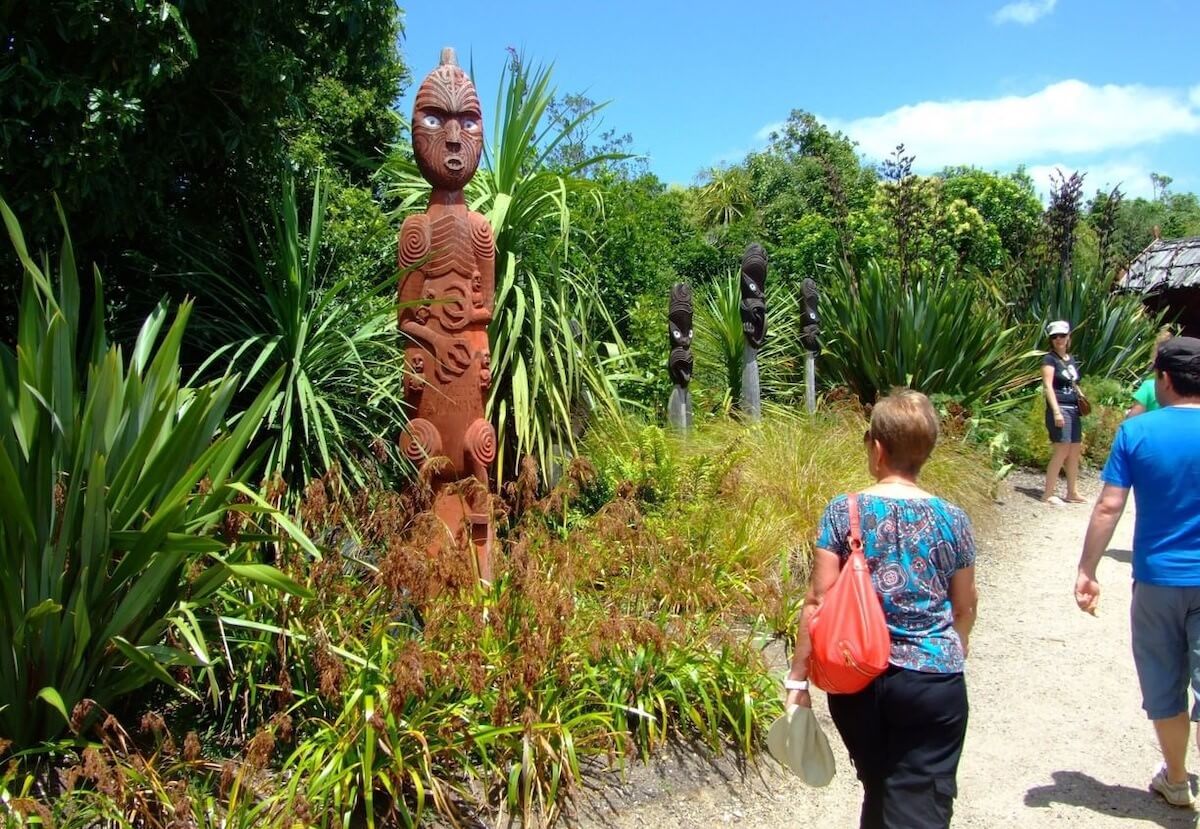 Our family has been visiting these gardens for years, it's a magical place with over 20 themed gardens to explore. My favourites are the fantasy range including the Tropical, Surrealist and Tudor gardens. There's also a traditional Maori garden! so much to see and explore.
If you enjoy photography this is a great place to lose a few hours. You can spend an hour here or a full day, it really depends on how much time you have to explore. Entry is free :)
Hot tip: there's a cafe with beautiful lake views and great food, or you could take a picnic, there are endless picnic spots along the way.
Raglan
An hour and a half from Down to Earth you'll find the cute west coast beach town called Raglan. It's famous for its world-class surf breaks but also has plenty of cafes and a community of creative locals.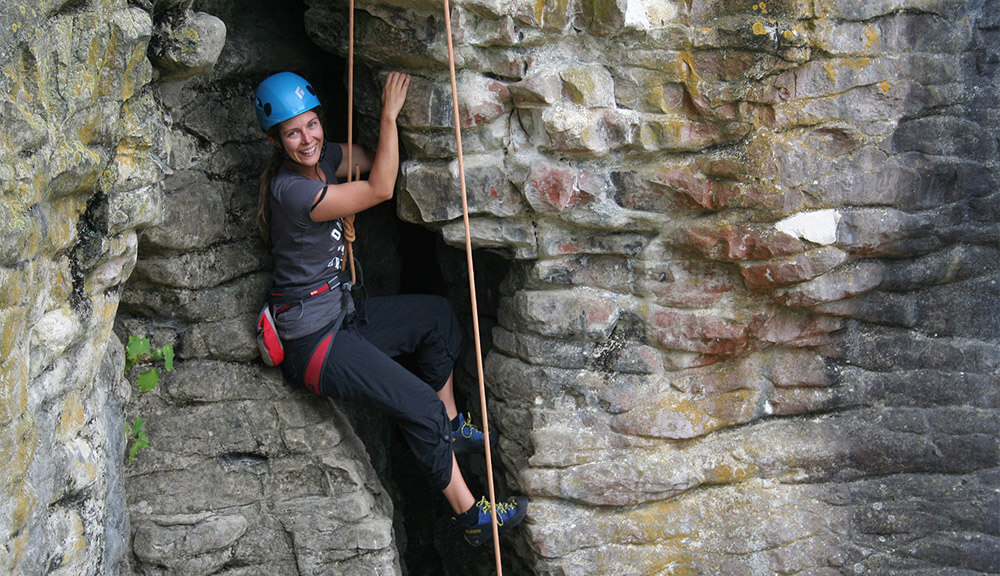 If you like climbing, abseiling, or if jumping off waterfalls is more your kind of thing, get in touch with the friendly folk at Raglan Rock for an off the wall experience!
They offer a range of tours for people of all ages and abilities. You'll get a chance to explore the amazing caves, canyons and streams of Raglan while getting a real adrenaline kick!
Fish n chips on the beach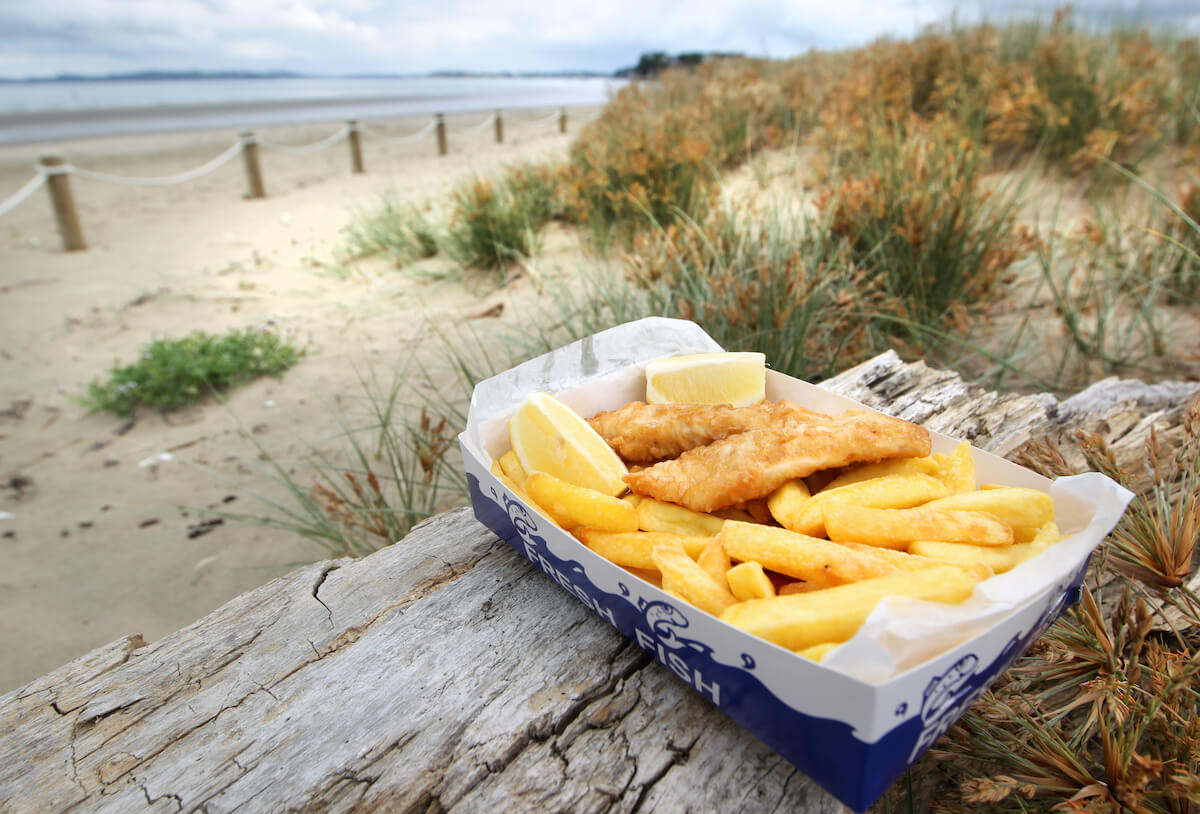 My first ever date with my now husband was having fish n chips on the beach in beautiful Raglan. Fish n chips are a kiwi favourite and lots of us grew up with Friday nights being fish and chip night. This iconic New Zealand dish was introduced by British settlers way back before World War 1.
These days you'll find a friendly fish n chip shop in pretty much every town throughout New Zealand. With all these coastlines we claim to do them better and fresher than anywhere else. If you don't believe us, you'll have to try them for yourself.
Hot tip: Ask for the fresh fish of the day and don't forget Watties tomato sauce! Wash it all down with a bottle of L&P - a favourite Kiwi soft drink.
Coromandel area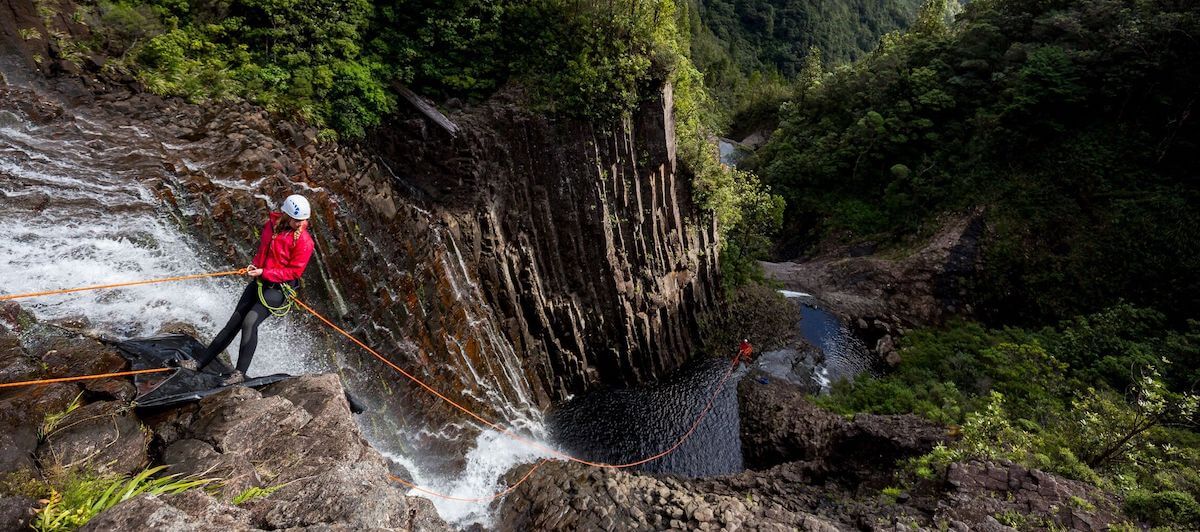 If you are wanting to experience canyoning with amazing views thrown in, go and visit the guys at Canyonz in the Thames/Coromandel region. This is not for the faint hearted - when they say "Real Adventure" they mean it!
Canyonz is rated one of New Zealand's top activities on Trip Advisor and has been awarded a certificate of excellence for 4 years running.
Their passion is making sure all of their customers have an awesome day of adventure, abseiling, jumping and zip-lining down sparkling waterfalls.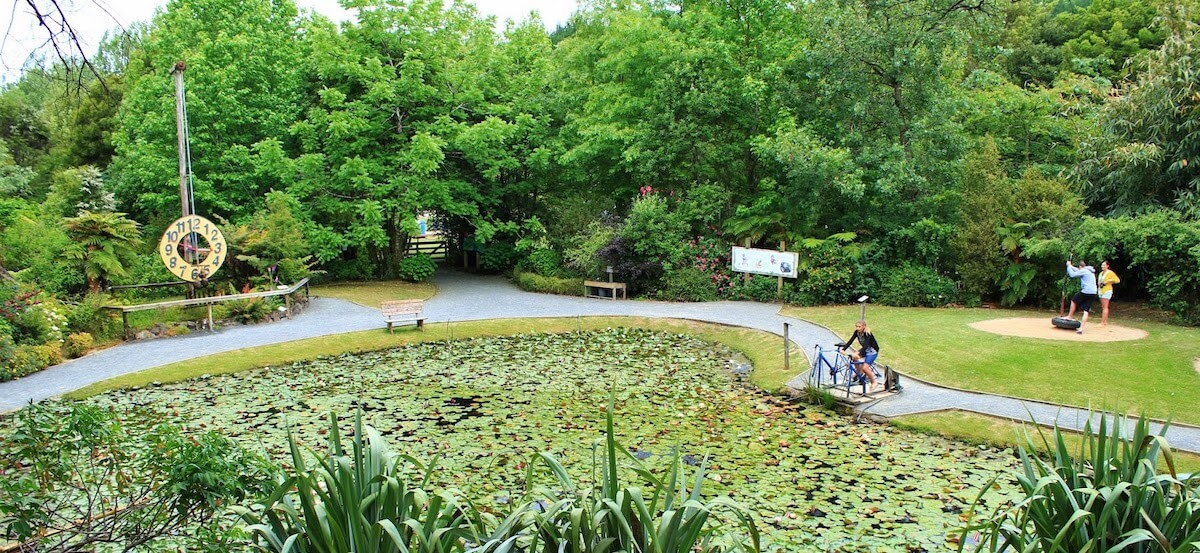 We love this off the beaten track 'Kiwi as' theme park so much we've been twice now and we are planning a third visit. It's made up of gardens and sculptures with an array of interactive water driven quirky contraptions. It's hard to visit this place without having a good laugh, it's just that much fun!
You can take a picnic or order something from their small cafe onsite. The bucket latte is literally the size of your head!
If you're traveling in a campervan you can stay in their large parking area surrounded by native bush for only $5, which will be refunded on entry to the park.
Hot tip: The drive is on the old 309 Road so take your time and watch out for the cute little pigs that sometimes hang out on the side of the road …. we did say it was off the beaten track!