About Glowing Adventures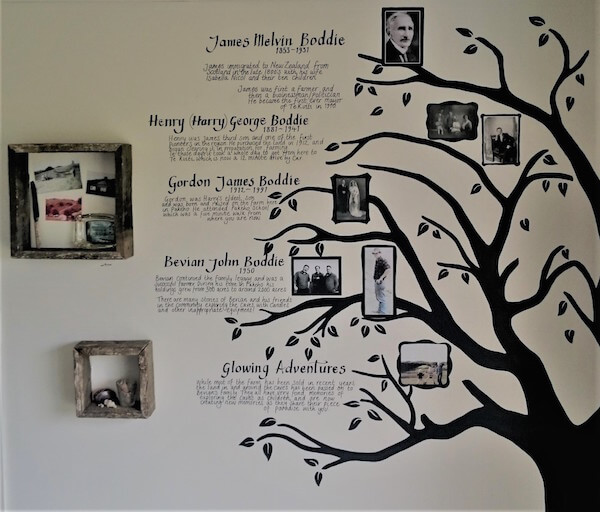 Glowing Adventures is a family owned and operated business, run by the Boddie family. We're located in a tiny settlement called Pākeho, and are the fourth generation to live and work in this district. In 1910 Henry (Harry) Boddie was among the first hardy pioneers to move with his family to Pākeho, which was then a long ride from the nearest town of Te Kuiti. Harry, then his eldest son Gordon, then later Gordon's two sons, farmed the land in Pākeho for over 100 years. The land has now been passed to a fourth generation, and we've decided to share our little piece of paradise with you. The cliffs, gorge, forest and caves at Pākeho are untouched — there are no concrete paths or electric lights! — so we invite you to come and enjoy them, just as we did growing up in this amazing piece of New Zealand.
About Pākeho
Pākeho is the Māori word for limestone, which is the white rock common in the Waitomo region, and in which the many caves in the region have formed. The Mangapu stream runs through Pākeho, and has formed a deep gorge and large cave system. The district is also notable for a number of large limestone cliffs. Pākeho (and the Mangarongapu Cave which is included in our tour) is at the upstream end of the large Mangapu cave system, which is approximately 4km long and includes the Mangapu Gorge, Mangarongapu Cave, Nemesis and Sterling Silver Caves, Lime Cave, and the Lost World. The Mangapu cave system is one of only two of Waitomo's many cave systems that is designated by New Zealand's Department of Conservation as being of international significance.
The Pākeho district once boasted a school, as well as a district hall. In fact during the past 100 years Pākeho has had two schools! The first school opened in 1917, and at its peak had a roll of 29 children. It closed in 1928. Then the second Pākeho school opened in 1946, and was open until the early 1970s. The Glowing Adventures office is on the site where the school teacher's house once stood.