The Ultimate Highlights
You can bring your larger camera and even a tripod for those epic shots.
Keep it cozy with an intimate private group tour, maxing out at just 4 people.
Get guided through pristine New Zealand scenery, both inside and outside the glow worm caves.
Get ready for countless incredible glowworm photo opportunities.
Take your sweet time to set up the perfect shots.
Hang out with our awesome local guide.
Explore the breathtaking native New Zealand forest.
Get adventurous as you wade through freshwater streams, conquer boulders, and capture untouched limestone caves with spectacular rock formations.
Don't miss out on photographing mesmerizing glow worm displays.
Get ready to be amazed!
About the Down to Earth Photography Tour
When it comes to our Photography Tours, our mission is to immerse you in the purest and most unspoiled landscapes New Zealand has to offer. Whether you're inside the enchanting glow worm caves or surrounded by the stunning outdoor scenery, our local guide is your trusty companion. These tours are super private—it's just your group and your guide on this adventure. We keep our groups small, maxing out at four.
Now, while our guides are top-notch, they're not photography gurus. But hey, if you want some insider tips and tricks for cave photography, we've got you covered. Shoot us an email at contact@glowing.co.nz, and we'll hook you up with a document full of wisdom from past guests.
Our Photography Tours have a slightly different vibe from our standard Off the Beaten Track tour. Here, we focus on the entrance/exit of the cave and the stunning Mangapu Gorge. The photo ops are off the charts, with gorgeous glow worm displays, stunning limestone formations, and nature's light show filtering through pristine New Zealand native bush. Our cave system is one of just two in the Waitomo district classified as "Internationally Significant" by New Zealand's Department of Conservation, and it's completely untouched!
Here's the Deal with Equipment
On our Photography Tours, you can bring along those larger cameras and even your trusty tripod. You've got the freedom to take your time and craft those perfect shots. Photographing glow worms can be a challenge, but trust us, the results are beyond spectacular!
Now, for safety reasons, we don't take photography tours through some parts of the cave system. All equipment needs to be packed in a backpack because your hands must be free when navigating the tracks. And remember, all cameras and gear are taken into the cave is at your own risk.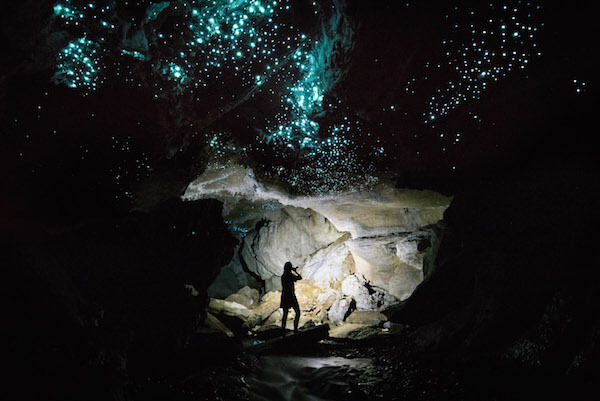 Plan for a 3-hour adventure, with roughly 2 hours inside the cave system.
Your group can be as small as one or as big as four.
Minimum age: 12 years. Kiddos under 16 need a parent or guardian along for the ride.
Check out our Cancellation Policy for all the nitty-gritty.
Just a heads up, this tour isn't ideal for elderly folks or anyone with mobility challenges. It involves walking over rough terrain, through streams and stairs. No footpaths around these ways! A decent level of fitness is key.
Getting Here
No wheels? No problem! Several companies offer transport to Down to Earth — Eco Tours from nearby spots in the Waitomo district. Check out our FIND US page for all the juicy details. Let's capture some epic memories together!