The Best Bits
Able to bring your larger camera and a tripod.
An intimate and private small group tour for up to 4 people.
Be guided through untouched New Zealand scenery.
Many incredible photo opportunities.
Take your time to set up the best shots possible.
An awesome local guide.
Walk through beautiful native New Zealand forest.
Wade through freshwater streams, climb over boulders.
See and photograpgh untouched limestone caves and spectacular rock formations.
Capture mesmerising glow worm displays.
Be amazed!
About the Glowing Adventures photography tour
On our photography tours we take you through beautiful untouched New Zealand scenery both inside and outside of the glow worm caves, with an experienced guide.
These tours are private. That is, your group and your guide will be the only participants on the tour. On photography tours we take a maximum of four people per group (excluding the guide).
Photography tours are a little different from the standard Off the Beaten Track tour. The main difference is we focus on the entrance/exit of the cave and the very picturesque Mangapu Gorge. There are many incredible photo opportunities including beautiful glow worm displays, stunning limestone formations, and light filtering through pristine New Zealand native bush. The cave system on our farm is one of only two in the Waitomo district that is classified by New Zealand's Department of Conservation as being of "International Significance". It is completely untouched!
To get an indication of the type of scenery on the tour take a look at the video at the bottom of this page.
On photography tours we allow larger cameras and other equipment like tripods. You have the freedom to take a lot more time with your photography than you do on our other tours. Photographing glow worms is challenging, and can take patience. The results though can be spectacular!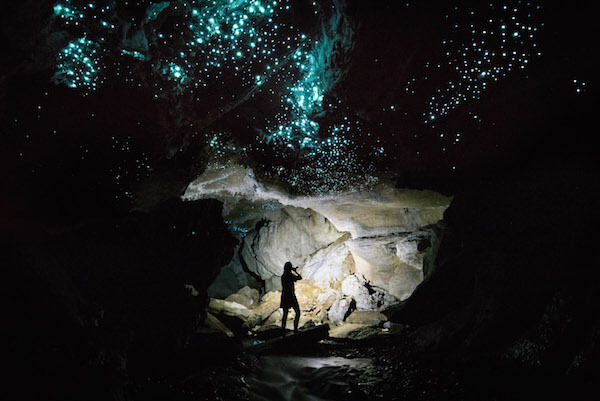 For safety reasons we don't take photography tours through some parts of the cave system. All equipment must also be carried in a backpack, as hands must be free when moving up and down the tracks. All cameras and equipment are taken at your own risk.
Allow 3 hours for the tour, of which approximately 2 hours is spent in the cave system.
Maximum group size is four, and minimum group size is one.
Minimum age is 12 years. Children under 16 must be accompanied by a parent or guardian.
Please read our Cancellation Policy.
Please note that this tour is not suitable for the elderly or anyone with mobility difficulties. It involves climbing over boulders, walking up hills and wading through streams with rocks underfoot, so a reasonable level of fitness is required.
Transport to Glowing Adventures
If you don't have your own wheels, there are several companies that offer transport to Glowing Adventures from nearby depending on where you are in the Waitomo district. Check out our FIND US page for all the details.