About the tour
On our photography tours we provide beautiful natural New Zealand scenery both inside and outside of the glow worm caves, with an experienced guide.
These tours are "private". That is, your group and your guide will be the only participants on the tour. On photography tours we take a minimum of two and a maximum of four people.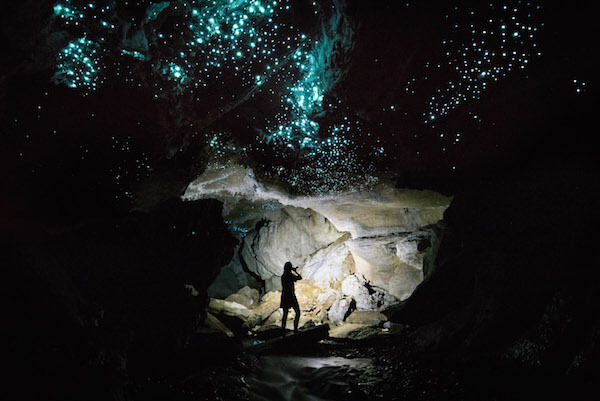 Photography tours are a little different from the standard Glowing Adventure Eco-Tour. The main difference is we focus on the entrance/exit of the cave and the very picturesque Mangapu Gorge. There are excellent photo opportunities, including beautiful glow worms. The cave system is one of only two in the Waitomo district that is classified by New Zealand's Department of Conservation as being of "International Significance". And it is completely untouched!
To get an indication of the type of scenery on the tour take a look at the video at the bottom of this web page.
On photography tours we allow larger cameras and other equipment like small tripods. And you have the freedom to take a lot more time over your photography than you do on our other tours. Photographing glow worms is challenging, and can take some time. The results though can be spectacular! Take a look at the example photos below, or at our gallery page to see what's possible. And no, those photos haven't been photoshopped. That really is what the glow worms look like!
For safety reasons we don't take photography tours through some parts of the cave system. All equipment must also be carried in a backpack, as hands must be free when moving up and down the tracks. All cameras and equipment are taken at your own risk.
Please note that this tour is not suitable for the elderly or anyone with mobility difficulties. It involves climbing over boulders, walking up hills and wading through streams with rocks underfoot, so a reasonable level of fitness is required.
There is no public transport access to Glowing Adventures, and we are not able to pick people up. You will need your own transport to get to us.