Protecting waterways
The Mangapu stream that runs through the Glowing Adventures caves is part of the largest underground river system in our region. We've built fences to help ensure the health and wellbeing of these precious waterways. Our fences keep stock away from our stream which flows into the larger Waipa river.
Read more about our fencing and planting projects in this article from the Waitomo News.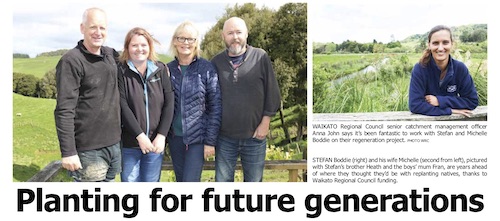 Supporting St John

Glowing Adventures is proud to support St John - a charitable organisation providing health services to hundreds of Kiwis everyday - ambulance services, first aid training, youth and community programmes and much more. Our family also has a 60-year connection with St John which you can read about in our local newspaper.
Native plant restoration
In 2018 we began our planting project here at Glowing Adventures, to help protect, preserve, and regenerate the beautiful native forest that grows around and above the cave system here. We partnered with the Waikato Regional Council to plant 2000 native trees including karamu, broadleaf, koromiko, lacebark, kanuka and manuka.
Pest control
Here at Glowing Adventures we help protect the environment by keeping our pest numbers as low as possible. That primarily means trapping rats and possums who do serious damage to New Zealand's natural ecosystems, including the life cycles of our native birds, reptiles, insects and trees. For more information on the threat of possums and other introduced species see the Department of Conservation website.
We've already seen the positive effect our trapping programme has had on our native bush and birdlife. Both are flourishing!